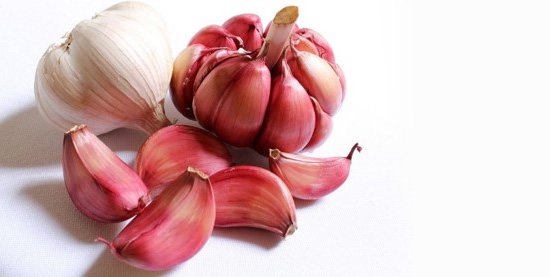 DIFFERENCES SPANISH AND CHINESE PURPLE GARLIC

| PURPLE GARLIC | SPANISH | CHINESE |
| --- | --- | --- |
| SIZE | Smaller head | Larger head |
| FLATTENED | Spherical | Shape |
| CLOVES | 8 - 9 | 10 - 12 |
| LEATHER BULB | White | Violet |
| LEATHER CLOVES | Purple | White |
| FLAVOR | More intense | Less intense |
This variety has a medium size, it forms between 8 and 10 cloves of small or medium size with a crescent shape. The outer skin is white and the cloves are covered with a deep purple skin.
They have a very intense aroma and spicy flavor, it is probably the variety with the strongest flavor among all types of Spanish garlic. The intense flavor is due to the high index of allicin, an organosulfur substance that is released when the clove is broken and gives it the characteristic spice, intensity and flavor of this garlic. Spanish purple garlic has a higher percentage of allicin than Chinese garlic, so it has a more intense and spicy flavor.
FORMATS
Bag / mesh 100, 200, 250, 500 and 1,000 gr.
5 kg bags
Box 5 and 6 kg
Bulk
* Custom packaging for large volumes of orders. Ctra. de la Rambla-Montalbán, Km 2
14548 Montalbán de Córdoba
Córdoba (España)
+ 35 957 31 00 95
info@ajospalacios.com